Bamboo Shelter Kit: Learning from Leonardo da Vinci
Introducing a sustainable way of creating temporary shelters using tarpaulins and bamboo poles, inspired by Leonardo da Vinci's technique in building bridges centuries ago
The development community gathered on World Refugee Day at the UN Convention Center in Bangkok during AIDF Asia to discuss the most pressing humanitarian issues, such as disaster resilience and preparedness, mass displacement and trends in funding, technology and innovation. Our colleague Martina Aureli shared her expertise on Ensuring Shelter Assistance, focusing on the essential role of relief items and sustainable shelter solutions, respecting and protecting safety and dignity of beneficiaries.
Following the release of the UNHCR Global Trends Report 2017, which states that number of forcibly displaced people has grown from 65.6 million to 68.5 million people, Ms. Aureli commented that this unacceptable number equals the population of Thailand, where the event took place. "The urgency to introduce new approaches and solutions is bigger than ever, acknowledging by the time you have listened to my introduction, three more people have fled their homes. This unprecedented crisis can be addressed only if all actors from the humanitarian community and the private sector will work together."
The presentation during the first day of the summit highlighted our Rapid Response Strategy to assist the Rohingya refugees, working hand in hand with humanitarian aid agencies to ensure a successful and fast supply of high quality shelters and life-saving core relief items.
Tarpaulin: 'Aid worker's secret tool'
Directly talking to many field officers, emphasis was put on a key relief tool, the tarpaulin.
Tarpaulins, also known as 'tarps' or plastic sheeting,  are made of strong, flexible and waterproof high density polyethelene (HDPE) coated layers that come in sheets and rolls. Tarps are essential shelter materials, characterized by their versatility, strength and affordability.
Tarps are often referred to by the humanitarian responders as the 'aid worker's secret weapon'. It is the most common shelter material and is a bare necessity in places where tents are not available.
Bamboo Tarp Kit
Local NGOs have found creative and sustainable ways to use standard high-quality tarpaulins to create temporary shelters. Using a technique invented by Leonardo da Vinci to build bridges centuries ago, beneficiaries can create a self-supporting reciprocal frame with four overlapping bamboo poles. This very strong, closed circuit can easily hold 80 kilograms and creates a durable frame roof. The structure, made up of mutually supporting poles, is a low-cost solution and creates dignified shelters that provide protection and security.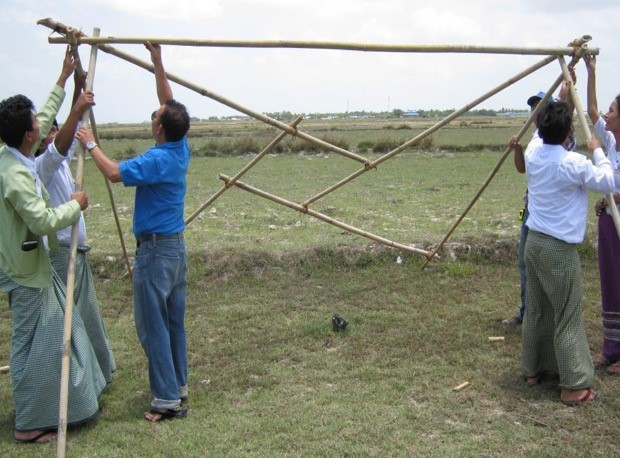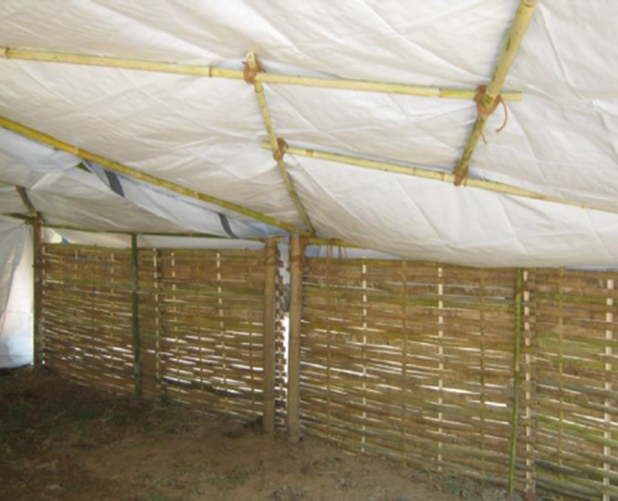 Click here to view NRS Relief's Woven Flexible Tarpaulin technical specifications and loadability.
Click here to view NRS Relief's Reinforced Plastic Tarpaulin technical specifications and loadability.
For more information about the effective implementation of the Bamboo Shelter Kit and the possible deployment in disaster-prone areas, contact Ms. Aureli at martina.aureli@nrsinternational-fzco.com.