'New Way of Working' to ensure inclusive and effective relief response
Kicking off DIHAD's 15th edition, the OCHA pre-conference workshop focused on Sustainability of the Humanitarian Response
Humanitarian stakeholders gathered during a workshop organized by the United Nations Office for the Coordination of Humanitarian Affairs (OCHA), to discuss the "Sustainability of Humanitarian Response."  Attendees represented multiple UN agencies, governments, aid organizations, academia and private companies, including NRS International.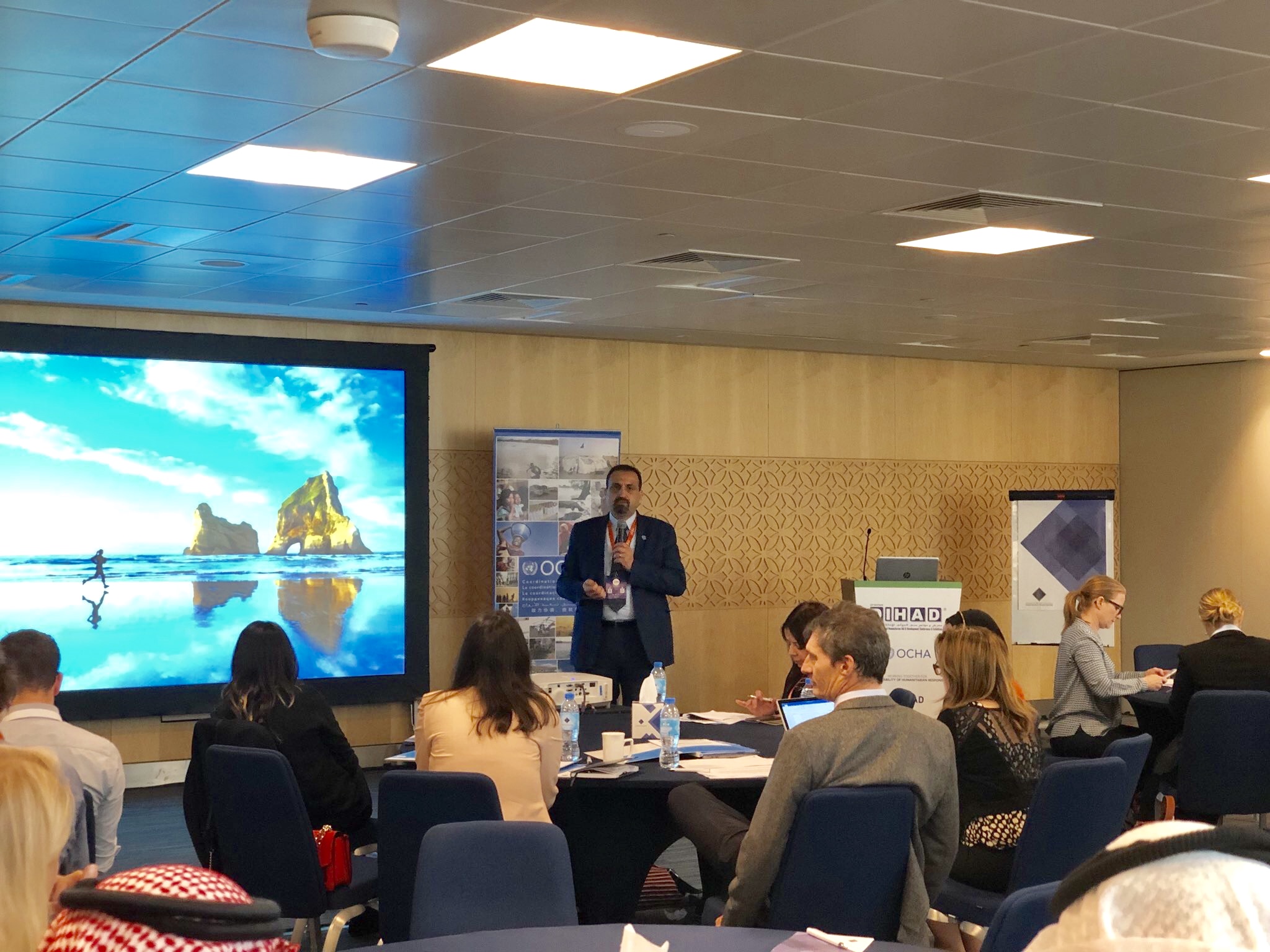 Image credit: @ochagulf via Twitter
Acknowledging the rapidly changing humanitarian landscape, the key theme addressed by the speakers was "New Way of Working"- NWOW, a holistic approach to crisis response introduced in 2016 at the World Humanitarian Summit. In a nutshell, it urges the humanitarian and development actors to work in cooperation and coordination when responding to crises. The idea is to foment sustainable development to areas affected by war or natural disaster that go beyond first phase emergency response.
At NRS International, we are looking forward to shaping the role of suppliers in the NWOW dialogue, as we play a critical role in the supply chain that stretches far beyond crisis hotspots. We are present at the World Humanitarian Summit, and as an exhibitor at DIHAD, the topic of the workshop was very relevant to us. The United Nations Sustainable Development Goals (SDGs) for 2030, the UN Global Compact and the Global Reporting Initiative (GRI) are now part of our business strategy. We are working towards such powerful alignment and welcome industry-based initiatives that brings higher accountability to the humanitarian sector.
There is no doubt the NWOW is the way forward. However, it remains complex for the multiple crisis respondents to work together in assisting and rebuilding after war and/or disaster strikes. During the workshop, it became clear that several questions are yet to be answered, such as the nexus between humanitarian and development. Some real-life examples of ongoing collaborations between inter-UN agencies, aid organizations and private companies were presented, including the shortcomings of each.
Due to the particular nature of each humanitarian crisis, there is no formula on how to implement NWOW, hence the workshop focused on debating multiple scenarios, brainstorming on humanitarian/development balance, and using the opportunity to question UN representatives on what is expected from its stakeholders. It became clear that private companies are expected to get involved beyond in-kind donations and include themselves within the humanitarian financing system. There was great emphasis on corporate partnerships for local development, creation of networks of private-sector crisis respondents and focus on localized private leadership to rebuild business in affected areas.
A positive outcome of the workshop was the consensus in that rebuilding a country means restoring its social fabric. It became evident that bringing in development to humanitarian crises was not about simply reconstructing hospitals and buildings. The need to involve local communities, to listen to them as opposed to impose "help" was greatly agreed on. This common feeling was well captured in the following quote: "As developmental as possible, as humanitarian as necessary", belonging to Ms. Christina Bennett, Head of Humanitarian Policy Group, Overseas Development Institute (ODI). She strongly believes that networks of local respondents are already multiplying, many without any governance, which is one of the several landscape changes international agencies in the humanitarian and development sectors need to consider.
Given the complexity of the issues at hand, the workshop that kicked off DIHAD confirmed the commitment of the development and humanitarian community to explore new ways of working in support of collective outcomes that reduce risk and vulnerability and serve as instalments toward the achievement of the SDGs. And we as a supplier, we are committed to support this journey of sustainability, which should ultimately benefit the beneficiary.